Updated: November 20, 2019
The right team building event can have a powerful effect on the morale and productivity of your team. But with so many options, how do you find the right one? The good news is, Toronto is full of interesting and unique team building events, from food tours of Kensington Market, to virtual reality team challenges, and cocktail making on King West—just to name a few. Take a look a this list of the top outside-the-box team building events in Toronto and challenge your team to try something new.

King & Bathurst
This trendy bartending school offers great private and corporate events featuring up-to-date cocktails and no-nonsense recipes. They'll also come to your office with all the tools in hand to teach you and your team how to make 3 distinct cocktails using seasonal ingredients. This one is definitely a hit with teams looking to bond while trying out their cocktail making skills.
Perfect for groups: 5+
Good for: cocktail-loving teams
---

#2 – Go on a private food tour with

Chopsticks+Forks
Kensington Market
Treat your team to a private walking tour of Kensington Market—with lots of stops to sample the wares along the way. This unique food tour offered by Chopsticks+Forks will take you to 6 different restaurants, each offering food from a different corner of the world. With tastes that include spicy Jamaican patties, South American humitas, and authentic Indigenous bannock, your team will be gasping for breath by the end of it.
Perfect for groups: 8+
Good for: foodie teams
---

The best team building activities force people to get outside their comfort zone and try something creative. Chocolate Tales corporate workshops are a great way to accomplish this as your team crafts delicious creations under the guidance of an expert chocolatier. Options include the classic chocolate workshop, a truffle themed workshop, and an "Iron Chocolatier" challenge where you'll be placed in teams to see which group can combine Belgian chocolate and exotic ingredients to create the best tasting treats.
Perfect for groups: 10 +
Good for: teams with a sweet tooth
---

#4 – Discover your inner Picasso with

Paint Cabin
Riverdale
Paint Cabin is a modern studio located at Gerrard and Broadview in Riverdale. Their friendly instructors ensure that everyone in your group will have fun – even the least artistic members of your team – as they guide you through creating your own masterpiece. They also have a full bar available and can arrange catering with advanced notice. Unlike other paint studios in Toronto, Paint Cabin gives you the option to pick your medium, from the most popular option acrylics, to the more niche watercolors, woodcutting, and mixed media.
Perfect for groups: 6+
Good for: creative teams
---

#5 – Work together to solve an

Escape Room
Downtown
This centrally located escape room offers high-tech puzzles, intricate set design, and immersive storylines, all just steps from Yonge and Dundas Square. Roundabout Canada's fun and flexible team of escape room enthusiasts will help your team out with hints along the way if you need it. For smaller groups you can book direct. For larger groups, contact Hijinks Concierge to arrange for private group bookings.
Perfect for groups: 3 – 30
Good for: problem solving teams
---

#6 – Cook up some memories with

Viva Tastings
College & University
If you're looking for a fun and creative way to bring your team together, Viva Tastings offers 3 & 4 course cooking classes that can be customized to fit the needs of your group. Options include stress-free events focused on learning new techniques, to problem-solving challenges where you'll be given all of the ingredients but only part of the recipe. No matter which program you choose, the results will be delicious. And the best part? You get to eat everything you make!
Perfect for groups: up to 14 people
Good for: foodie teams
---

Downtown
For a truly unique experience, take your team to discover new worlds with virtual reality. Choose from a VR Walking experience with 5 v 5 team games to head-to-head VR Driving races. Larger groups can work with Hijinks Concierge to arrange for a private group team building experience that includes both formats. These games will have your group engaging in epic multiplayer battles, chef showdowns, underwater & flight experiences, and head-to-head racing. If you're in the north end you can also check out their Richmond Hill location.
Perfect for groups: 4 – 36
Good for: techie teams
---

Multiple Locations in GTA
Forget about fostering communication and just let the team have fun at bubble soccer. Conventional rules don't apply—this game is more like bumper cars. Bubble Soccer Toronto makes it easy to experience this unique activity by providing all of the equipment needed, as well as arranging for an outdoor or indoor venue for your event.
Perfect for groups: 20+
Good for: silly teams
---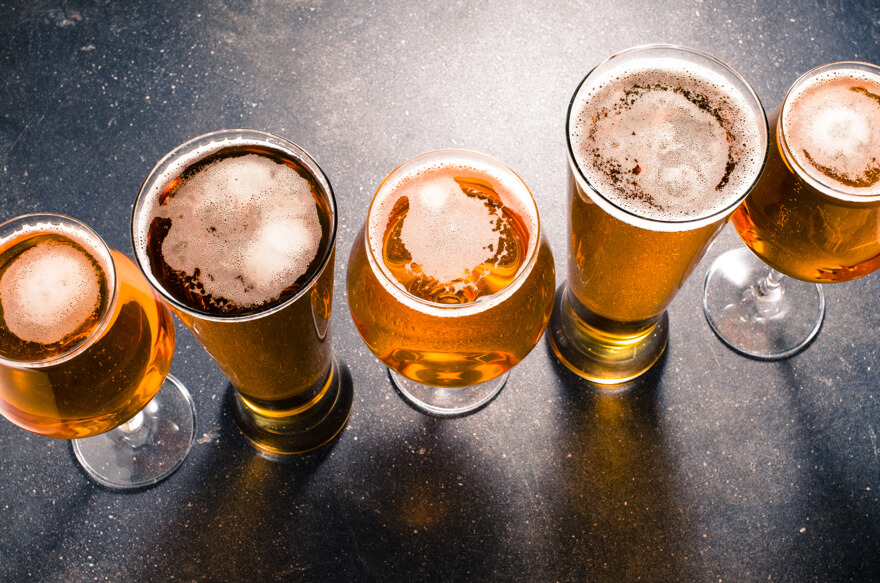 Riverside
Toronto's craft beer scene has exploded and some of the best brewers are setting up shop in the east end. Treat your team to a curated beer and bites tour that will take you to some of the newest and best breweries in the city. Go behind the scenes tasting pilsners, stouts, saisons, IPA's and lagers. Explore a hidden laneway with a tucked away brewhouse, discover beer cocktails, and savour some of the best wood fired pizza in the city. Contact Hijinks Concierge to arrange a private tour on the day and time of your choice.
Groups: 6+
Good for: social teams
---

St. Clair West
This turn-of-the-century mansion is the perfect backdrop to Toronto's most immersive escape game. If you've got a team that loves problem solving and history, wow them with a team building event at Casa Loma. Organized by Secret City Adventures, a premium escape game company in Toronto, the Casa Loma escape series makes full use of this historical property with outside the box escape games, wicked narratives, and live actors.
Groups: 12–40
Good for: adventurous teams
---
Looking for other great experiences in Toronto?
Book Your Event With Hijinks
Our Corporate Concierge team has spent years building our expertise in planning fun events, corporate team building experiences, and group activities. We know the value that the right experience can bring to your group. Let us take care of the details for you.