It's tempting to spend your entire vacation on Maui sunbathing at Ka'anapali Beach–and while that's a perfectly good way to spend your time, you'd be missing out on some of the most incredible experiences this Valley Isle has to offer. From the lush landscape of the 'Iao Valley to the hairpin turns of the Hana Highway, Maui is as close as you're ever going to come to heaven on earth.
But when you consider everything this island has to offer, it can get overwhelming fast. If you're looking for the greatest hits, this list is for you. Check out these top 5 things to do on Maui that will make your vacation a smashing success.

#1 – Take the Road to Hana
Wailuku, Central Maui
Ask anyone who's been there and they'll tell you: traveling the Hana Highway is a must-do on Maui. This narrow road full of hairpin turns winds its way across Maui's northeastern shore, precariously perched between the Pacific Ocean and Maui's most breathtaking vistas. But the ride itself is only half the journey—don't miss the awesome stops along the way. See the best the Hana Highway has to offer on this small-group tour. Stop off to visit lava tubes, fresh-water sea caves, and, best of all, Maui's own black-sand beach.
---

#2 – Go snorkeling at the stunning Molokini Crater
Ma'alaea, Central Maui
How do you feel about snorkeling in an extinct volcano crater three miles off Maui's south shore? If you're looking for that quintessential Maui experience that you can't get anywhere else, this is it. The Molokini Crater is a haven for coral and more than 250 varieties of fish, its shallow waters protected from the ocean's rough waves. Only accessible by boat, check out Sail Maui which offers amazing sailing trips from Ma'alaea to the crater. Food and drink is included, as is all the snorkeling gear. Don't forget your camera—this is a once-in-a-lifetime kind of experience.
---

#3 – Go to a spectacular evening luau
Lahaina
What Hawaiian vacation is complete without a luau? Historically these colorful celebrations have played a significant role in Hawaiian culture–and while the tourist version can be a little cheesy, it's still an absolute must-do on Maui, at least once. Enjoy dinner and a show at the Myths of Maui Luau at the Royal Lahaina Resort. This luau is close to Ka'anapali Beach and boasts an all-you-care-to-eat buffet as well as the island's only kids' buffet. The ocean-front location leaves nothing to be desired—nor do the complimentary cocktails.
---

#4 – Learn how to surf at Ukumehame Beach Park
Olowalu, Central Maui
Just south of Lahaina, Ukumahame Beach Park is one of the best places to learn how to surf on Maui. Also known as Thousand Peaks, this beach is long and narrow with multiple surf breaks meaning there's lots of space for everyone. Not to mention these waves are just the right size for beginner riders. Check out Maui Surfer Girls who are one of the only surf schools permitted to teach here. And don't let the name fool you—they teach everyone, not just surfer girls. Pro tip: Bring your own snacks and water as there's not much by way of amenities here.
---

#5 – Visit the lush jungle of the 'Iao Valley
Wailuku, Central Maui
See for yourself why this verdant valley used to be forbidden to the common man. Nowhere else on the island is Maui's lush and dramatic beauty on such display. Nestled between West Maui's rainforested mountains, 'Iao Valley State Park is a must-see while on the island. The star attraction of course is the 'Iao Needle, a striking 1,200 foot stone pillar that shoots straight up from the valley's floor. See everything this mystical location has to offer on a small-group tour. See Haleki'i and Pihana Heiau ancient sacrificial temples, walk through a sunken volcano caldera filled with tropical flowers, and traverse the valley's hard-to-find walking trails.
---
In Season Bonus: Go whale watching
Lahaina
Maui is without a doubt the best place in Hawaii to see humpback whales during their winter migration. Starting in December and lasting into April or May, the humpback whales come to Hawaii to find mates and raise their young. Catch a glimpse of these magnificent creatures on a classic Hawaiian whale watching cruise. You can even hear them singing underwater using special hydrophones!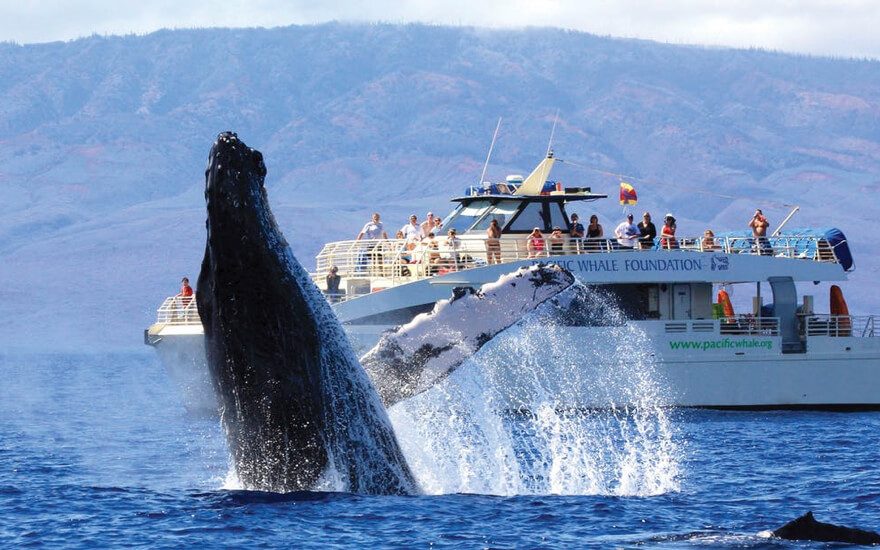 Looking for other great experiences in Hawaii?
Join Our Facebook Group!
We created the Hijinks Hawaii Facebook Group to provide help, support, and guidance on Hawaii tours, activities, and adventures. Whether you're an experienced Hawaii traveler, a local with insight to share, or a first-time visitor to the islands, you'll find advice, special offers, and a community of passionate people ready to help. Join us now!