Updated: September 25, 2022
Whether it's your honeymoon or your twenty-fifth wedding anniversary, Maui is one of the most romantic of the Hawaiian islands. Home to beautiful beaches, lush green gardens, and many luxury resorts, Maui is best experienced through a balance of bucket-list activities and lazy sunbathing. For the best ways to make the most of your time together, check out these super romantic things to do on Maui
---

#1 –

Go on a romantic sunset cruise
A romantic Maui vacation wouldn't be complete without that picturesque sunset cruise! Sail Maui offers an exclusive evening champagne sail along the West Coast of Maui. Enjoy some local craft brews or a Mai Tai while you watch the sky burst into orange and crimson. Book dinner in Lahaina after and make a night of it.
---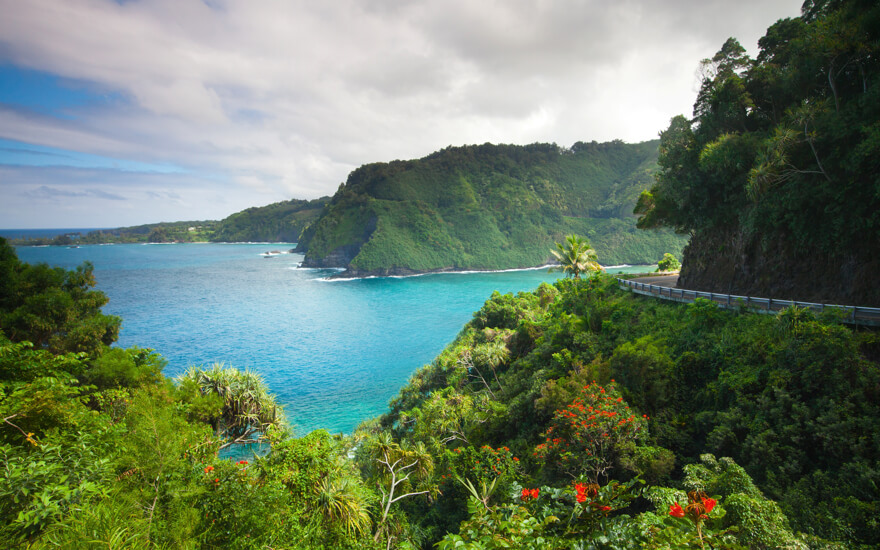 #2 –

Spend the day on the Road to Hana
With dozens of lookouts, bridges, hikes, and waterfalls, the Hana Highway just might be the highlight of your vacation. Do the whole highway in a day, including important stop offs and lookouts, with this great tour company. Make sure to spend some extra time at Pailoa Bay black-sand beach and don't forget to take a photo at picturesque Wailua Falls. These tours are private so you and your partner can go at your own pace.
---

#3 –

Go snorkeling at the Molokini crater
Is there anything more romantic than a secluded Hawaiian island crater, home to a rich marine preserve of tropical fish? Head to Molokini crater on this luxury sail cruise and see for yourself. Explore this extinct volcano, witnessing rare tropical birds, slippery subterranean eels, and even the odd humpback whale.
---

#4 –

Hit the trails on this breathtaking ATV tour
Sometimes the best bonding experiences are about getting outside your comfort zone.  In order to get the adrenaline pumping and see Maui from a whole new perspective, check out Maui Off Road Adventures.  On their 2 hour adventure you can take turns driving while exploring bamboo forest runs, hill climbs, river crossings, and those incredible ocean views.
---

#5 – Go to

a spectacular evening luau
What romantic Hawaiian vacation is complete without a luau? Enjoy delicious authentic Hawaiian cuisine alongside an evening show of dance and fire acrobatics. This luau's ocean-front location leaves nothing to be desired—nor do the complimentary cocktails.
---
Looking for other great experiences in Hawaii?
---
Join Our Facebook Group!
We created the Hijinks Hawaii Facebook Group to provide help, support, and guidance on Hawaii tours, activities, and adventures. Whether you're an experienced Hawaii traveler, a local with insight to share, or a first-time visitor to the islands, you'll find advice, special offers, and a community of passionate people ready to help.  Join us now!