Get ready to explore the underwater life of Hawaii! There are those that say the Big Island has the best snorkeling of all the Hawaiian islands–and while the off-shore snorkeling on Maui and Kauai is not to be missed, there's no doubt that the Big Island is gaining prominence with its incredible marine ecosystems at Kealakekua Bay and Honaunau Bay along the Kona coast.
Today there are so many different snorkeling tours on the island, it can be hard to know where to start–but with this many options there's sure to be a tour that's perfect for you. Choose from small-group experiences, private cruises, and luxury sails with chef-made lunches served on board. But don't forget what you came there for! Swim with a school of brightly colored yellow tangs, run into a sea turtle or two, or spy a playful spinner dolphin swimming by. Check out this list of the top snorkeling tours on the Big Island!

#1 – Deluxe Big Island snorkeling experience
There's a reason Sea Quest has been operating this tour for over 26 years! This original snorkeling cruise takes you to both Kealakekua Bay and Honaunau Bay for a great price. Expect to see schools of yellow tang swimming around the bays as well as a spinner dolphin or two following in your wake as you cruise up the coast. This tour includes snacks too!
Snorkeling destinations: Kealakekua Bay, Honaunau Bay, and more | Departs from: Keauhou Bay south of Kailua-Kona
---

#2 – Kealakekua Express snorkel
If you only want to snorkel at Kealakekua Bay and no where else, this is the tour for you. Kealakekua Bay is arguably the best place to snorkel on the whole island, making this a great choice if you're looking to cut some corners and save some time. Sea Paradise will take you right to the bay and back with plenty of time left for exploring in between. All the gear is provided and a snack too on this most affordable of Big Island snorkeling options.
Snorkeling destination: Kealakekua Bay | Departs from: Keahou south of Kailua-Kona
---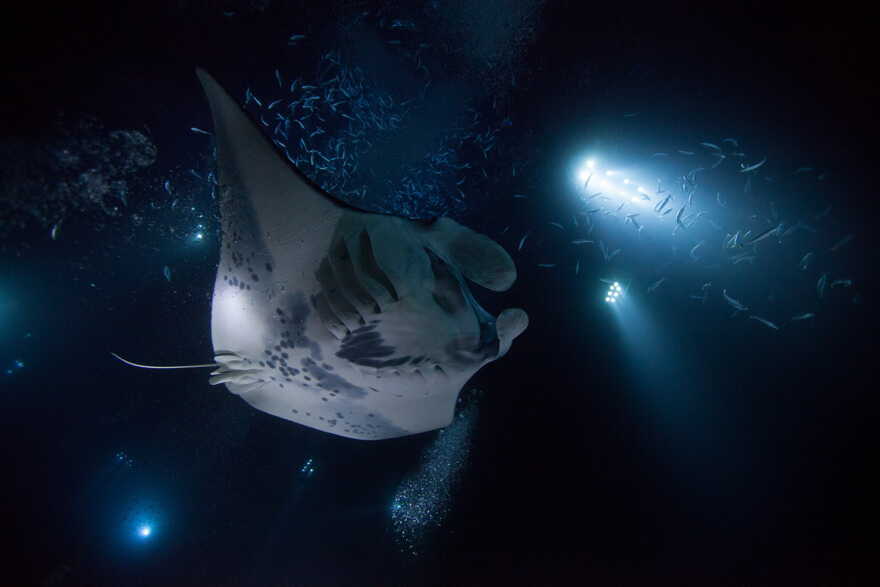 #3 –

Nighttime manta ray snorkeling
But of course, you can't leave the Big Island without going manta ray night snorkeling! Manta ray snorkeling is a major attraction on the Big Island–you can't do it anywhere else in Hawaii! Head out to a popular manta ray feeding spot with Sea Quest on their evening snorkel cruise. They'll set you up with a floatation device that doubles as an underwater light, illuminating these graceful creatures as they glide beneath you.
Snorkeling destination: South Kona | Departs from: Keauhou Bay, south of Kailua-Kona
---

#4 – Snorkeling at Red Hill with Body Glove Hawaii
Kailua-Kona
Dive into the pristine waters of Red Hill and explore its abundant sea life. That's right, Kealakekua Bay isn't the only place you can see fish on the Big Island. This morning snorkeling cruise takes you to Pu'u Ohau, also known as Red Hill, best known for its coral gardens and rare sea animals. Close to Kealakekua Bay, Red Hill is only accessible by boat making it a bit more secluded than its super-popular neighbour. This large-format tour includes food and beverages as well as cushioned seats and plenty of shade.
Snorkeling destination: Pu'u Ohau | Departs from: Kailua Pier, Kailua-Kona
---

#5 – Private snorkeling experience with Kona Ocean Adventures
It's your vacation–so why should you have to choose? Check out the private charters offered by Kona Ocean Adventures, perfect for families and groups travelling together. Set the agenda to suit your needs–hit up Kealakekua Bay, go out in search of dolphins, or do a fun mix of the two. You decide! And best of all, you can count on the high quality of the experience, which Kona Ocean Adventures brings to all its tours.
Snorkeling destination: you decide! | Departs from: Honokohau Marina north of Kailua-Kona
---
Looking for other great experiences in Hawaii?
---
Join Our Facebook Group!
We created the Hijinks Hawaii Facebook Group to provide help, support, and guidance on Hawaii tours, activities, and adventures. Whether you're an experienced Hawaii traveler, a local with insight to share, or a first-time visitor to the islands, you'll find advice, special offers, and a community of passionate people ready to help.  Join us now!