Twice as big as all the other Hawaiian islands put together, the Big Island is a traveler's paradise. From active lava flows in Hawaii Volcanoes National Park to ziplining though a rainforest park and some of the best snorkeling in all of Hawaii, the Big Island could keep you busy for weeks exploring its rugged coastlines and otherworldly terrain.
If you're looking for those extra-special must-do Big Island experiences, you've come to the right place. Check out this list of Big Island things to do that you just can't miss.

#1 – Go snorkeling at Kealakekua Bay
Kailua-Kona
There are those who say the snorkeling on the Big Island is the best in all of Hawaii. Along the Kona Coast there are lots of awesome snorkeling spots where you can see yellow tangs, Hawaiian sea turtles, and even spinner dolphins. To visit the greatest hits all in one go, check out this small-group snorkel tour. They stop at the Big Island's best known snorkeling destinations, Kealakekua Bay and Honaunau Bay (also known as "Two Step" or the Place of Refuge) as well as offering a truly top-end experience with chef-prepared lunches and snacks served on board.
---

#2 – Visit Hawaii Volcanoes National Park
Hawaii Volcanoes National Park
You can't visit the Big Island without stopping in at Hawaii Volcanoes National Park. Home to the Island of Hawaii's two active volcanoes, Kilauea and Mauna Loa, Hawaii Volcanoes National Park is a must-see destination for Big Island visitors. It can be a little tricky to get to and many visitors opt to use a volcano tour to get there. If you're looking to explore the park and enjoy a few key sightseeing stops along the way—like Big Island's breathtaking Punalu'u black-sand beach—check out KapohoKine Adventures. They offer casual tours for small groups from Kona or Hilo.
---

#3 – Go ziplining through a rainforest
Hakalau, north of Hilo
There's a reason ziplining is one of the most popular things to do on the Big Island. This 8-line zip course north of Hilo covers almost two miles of gorgeous tropical river gorges and is the best way to take in the Big Island's geologically diverse landscape. Sail over the tropical canopy and see thundering waterfalls from 160 feet. This one's good for the whole family and safe for kids aged five and up. Check out this tour which includes round trip transportation to the park.
---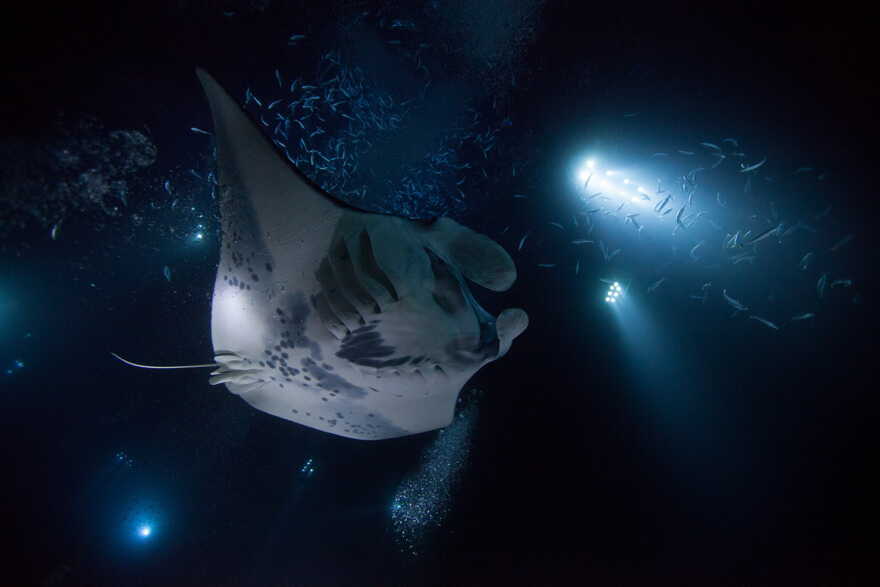 #4 – Go on a moonlight manta ray dive
Kahaluu-Keauhou, south of Kailua-Kona
This is an experience only the Big Island can offer: the moonlight manta ray dive. While you might think there's nothing special about this, you'll feel differently once you're in the water watching these ghostly creatures glide beneath you, with wing spans up to 16 feet and weighing 1,000 pounds! Check out Sea Quest which offers a superb moonlight manta dive. They'll take you out to Manta Ray Village and set you up with a manta floatation device, which keeps you afloat while also lighting up the water beneath. If you're looking for a life-changer, this is it.
---


#5 – See the Big Island from the sky
Kailua-Kona
With so many diverse landscapes to explore on the Big Island, it might seem impossible to see it all in just one vacation. See everything on this two-hour Full Island Adventure helicopter tour. You'll see Kilauea, Hawaii's active volcano, and watch as real lava flows traverse the landscape; you'll travel over the Waipi'o and Waimanu Valleys and watch as mist rises from their awe-inspiring waterfalls; and you'll soar over the coastline, taking in breathtaking cliff-faces and luxury villas overlooking the ocean.
---
Bucket List Bonus: Go lava chasing
Hawaii Volcanoes National Park
If you want to see lava up close on the Big Island, you should know that lava sightings aren't actually included in most volcano tours since the active flows are so hard to get to. To see molten lava up close (but not too close…) check out Epic Lava. This tour company offers once-in-a-lifetime hikes across Hawaii Volcanoes National Park to the current active lava flows. While lava sightings cannot always be guaranteed, Epic Lava is your best bet for that elusive, life-changing moment. Not for the faint of heart, pick up is at 4am and this hike ranges from 5 to 10 miles.

---
Looking for other great experiences in Hawaii?
Join Our Facebook Group!
We created the Hijinks Hawaii Facebook Group to provide help, support, and guidance on Hawaii tours, activities, and adventures. Whether you're an experienced Hawaii traveler, a local with insight to share, or a first-time visitor to the islands, you'll find advice, special offers, and a community of passionate people ready to help. Join us now!